Our radial bristle discs are same as 3M style.
For the radial discs, they are with very flexible, thin bristles, to form a brush-like tool, they can work in a very wide speed range and leave a very desirable finish. Generally, they are used to clean, deburr and polish small inside diameters on almost any metal very successfully.
The 3" and 6" radial bristle discs are ideal for finish protrusions, detail grooves, patterns such kinds of hard-to- reach areas. They can ensure the good quality finish you need and furthermore, they can help you to save money since they work faster and longer life while with reasonable price.


Remarks: Other sizes shall be available upon need.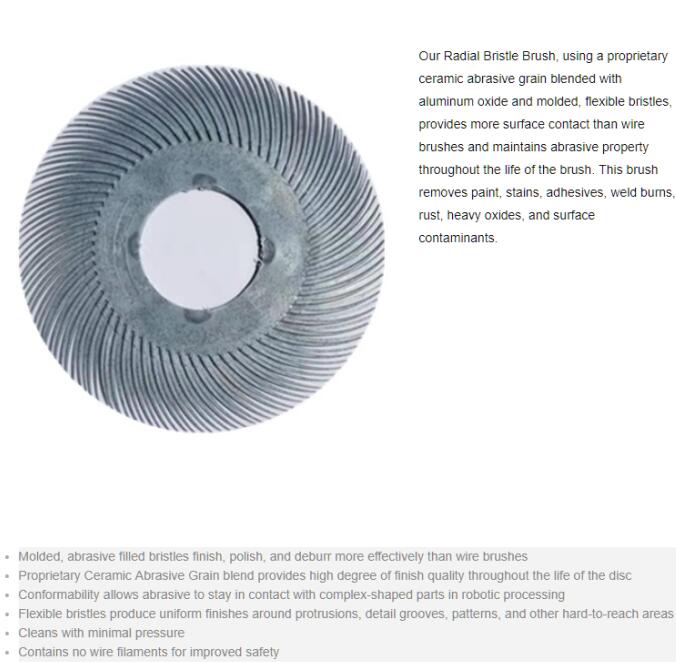 The Many Benefits of Ceramic Abrasive Grain
Ceramic abrasive grain is a ceramic mineral manufactured using one o
f our proprietary processes to enhance toughness and hardness of the grain.
For increased performance, our bristle discs feature aluminum oxide blended with ceramic abrasive grain for one of the hardest, longest-lasting minerals available.
Perfect for moderate to heavy stock removal, ceramic abrasives are engineered to cut fast and handle intense heat and stress applications.
Ceramic abrasive grain surpasses aluminum oxide abrasives in cut-rate, durability, and makes an excellent choice for industrial grinding and finishing applications.
A Good Alternative for Steel Wool
Under normal use, the flexible bristles remain safely in place and can achieve the desired finish using light pressure.
Our Radial Bristle Disc is designed to last longer than wire and other abrasive discs and works well on aluminum, brass, bronze, carbon steel, cast iron, stainless steel, and other metals.
Applications include general industrial, aerospace, automotive, metalworking, transportation, and automotive as well as fine detailing requirements of electronics, jewelry and woodworking industries.